PVC Coated hexagonal wire netting
Meterials:high quality low carbon steel wire. Stainless steel wire. Weabing and characteristics; reverse twisted. Galvanizing after weaving or galvanizing before weaving, It is divided to electorplate gavanized. Hot-dipped. Plastic-coating. Stainless steel, PVC coating,etc. It have the characteristics of corrosion-resisting and oxidation-resisting.

Uses: used wide in building, oil, chemical industry, breed, plant protection, food processing's reinforce, guard and heat-keeping, for example. Make net cast, stone cage, insulated net wall, boiler cover, poultry fence,etc.
PVC Coated Hexagonal Mesh
Hot Dipped Galvanized Hexagonal Mesh
Electro-Galvanized Hexagonal Mesh
Galvanized Before Weaving Hexagonal Mesh
Stainless Steel Hexagonal Mesh
Continuous Twist, Revers Twistor Mesh Reverse
Twist With Extension Hexagonal Mesh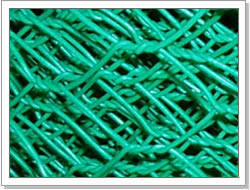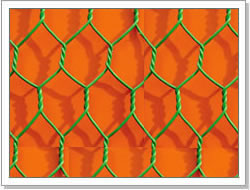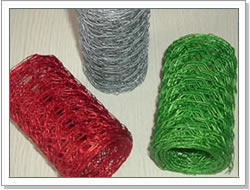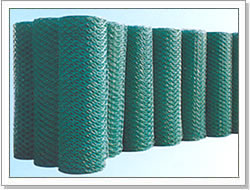 Specification of wire mesh

Twistable Wire Diameter

Twistable Width

Mesh No.

(cm)Size No.

British System No

Dia.Before Coated,Dia After Coated

British System

Metric system

1/2"

13

BWG27-22

0.8-1.1mm

1'-6'

0.1-2m

5/8"

16

BWG27-22

0.8-1.1mm

1'-6'

0.1-2m

3/4"

19

BWG26-20

1.8-1.1mm

1'-6'

0.1-2m

1"

25

BWG25-19

0.9-1.6mm

1'-6'

0.1-2m

11/4

31

BWG24-18

1.0-2.0mm

1'-6'

0.2-2m

11/2

40

BWG23-16

1.1-2.5mm

1'-6'

0.2-2m

2"

50

BWG22-14

1.1-2.5mm

1'-6'

0.2-2m

3"

75

BWG21-14

1.2-3.0mm

1'-6'

0.3-2m

4"

100

BWG20-12

1'-6'

0.3-2m
Email: sales@wovenwire.net